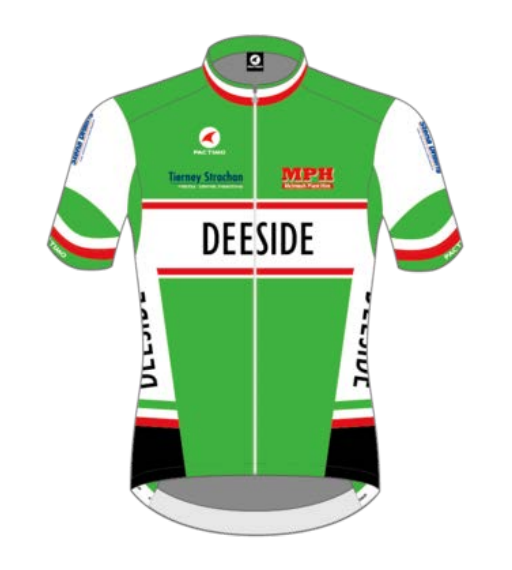 Our current club kit is supplied by Pactimo. Before you order however; please check our limited Pactimo stock and our superseded kit stock (from the previous supplier GSC) to see if we already have the item you are looking for. The stock sale list is HERE. Email me at clubkit@deeside.org if you have an interest in any of these items.
Note: If you are participating in open events, best practice is to have the current club official kit as per the rules (British Cycling).
Pactimo provides a shop 'open' period when kit can be ordered from their online store. A club newsflash will be issued indicating when the shop is open and about to close.
To access the shop window, enter https://teamstore.pactimo.com/stores/select and click 'My Team Store', then input the password (the password will be issued with the newsflash when the shop opens). This allows orders to be grouped into consignments for delivery.
Outwith these times when the shop is closed the range of clothing available can be viewed in an offline catalogue we have prepared HERE. Generally we will try and open the shop every quarter but this is subject to demand since a minimum order volume is applied by Pactimo.
Some important notes:
When placing an order; prices are shown excluding VAT; which is then totalled at the check-out stage.
If you are using a Visa Debit, you should inform your bank otherwise your purchase transaction may be blocked by your bank as believing to be fraud. Pactimo are a US based clothing company and so many banks will block the transaction to protect the client. When banks are informed prior to placing the order then usually transactions go through without incident.
Visa and MasterCard are accepted but not American Express.
ENTERED ORDERS CANNOT BE CANCELLED, if a wrong size is entered it can be altered it BEFORE we close the team store but not after the store has been closed. Contact me if you need support in this activity though clubkit@deeside.org.
Availability of kit for Sizing
We have a limited stock of clothing to be able to 'try for size' detailed HERE. If you wish to try a size please contact me to arrange at the club store – details below.
When clubkit is available from Pactimo or you are purchasing any of the limited or old stock; collection can be made from the club store detailed below. Collection may also be made by arrangement at the Evening League events.
We are able to provide a level of returns service as follows:
If an item is to be returned we can either refund the money and will put the item towards the club stock, thus allowing you to order a replacement garment of the correct size;
OR
If there is sufficient spare stock we can make a swap for the correct size.
The location for the club store is an industrial manufacturing and general office site operating to typical office hours. Please consider this when visiting.
On receipt of orders from Pactimo we will announce a number of 'collect' windows for general collection. Outwith these times; whilst we typically operate from 9am till 6pm; these times vary and/or the responsible person may not be available so please email to confirm a time before visiting.
Our address is Tierney-Strachan
Tierney Strachan, 12 Greenbank Place, East Tullos, Aberdeen, AB12 3BT
For youth club kit – go to the youth page