"The Youth British National Criterium Championships were held at Redbridge Cycling centre in London. It was a fast and technical course with a final hill climb in each 2km lap. I felt nervous before the race because I was really hoping to do well and I knew I was up against a strong field of riders. On the first lap coming over the hill I tried to attack with a small group, but it failed, and we continued as a bunch. Every time we came up the last part of the climb, I accelerated to a higher pace so no attacks could be made up the hill. The next attempt for an attack was made with 4 or 3 laps to go by Mabli Phillips which considerably shrunk the size of the bunch by a third, but there was no break away.
With two laps to go, one of the other riders noticed I had punctured my back tyre. Although I was very worried that the tubeless tyre wouldn't re seal, I knew not to panic and within half a lap the leak had stopped and I was able to continue.
On the last lap the pace increased again, and it was very intense because all riders were trying to push to the front.
I wanted to come first out of the last corner before the hill and to do this I had to continuously accelerate. I started sprinting out of the last corner leading to the finishing climb straight. I didn't know how close the other riders were at this point and although the pain in my legs was so intense, all I could think was "keep going, get to the line". When I crossed the line and realised that I had won the race, I could barely belief that my dream and goal of the year had come true.
I am looking forward to wearing the champions jersey for the rest of the year, and would like to say a massive thanks to the coaches from Deeside Thistle YCC for all the support, coaching and training they have provided."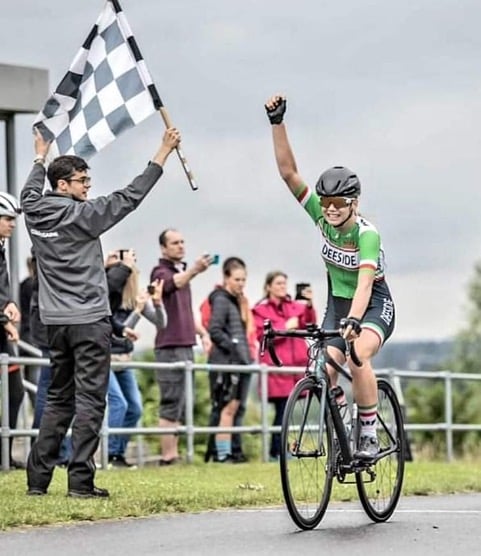 Photo credits to Huw Williams and Grant Speed